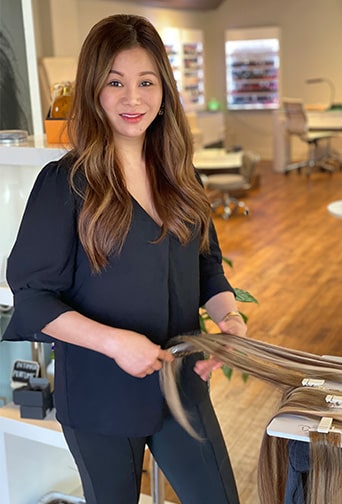 Kim Nguyen
Owner/Stylist
Kim began her journey studying at the Haute Coiffure in Switzerland, where she learned the finest French hair artistry and styling techniques. With over two decades of experience, Kim has defined her expertise through gorgeous highlights and balayage, color, extensions, keratin treatments, and masterful men's and women's haircuts.
One of Kim's primary specialties is hair extensions, and she has perfected the process over 15 years. She is licensed and certified in Easihair Pro Tape extensions.
With her commitment to providing an unparalleled level of service, Kim treats each client like a VIP with luxuries such as two-person blow drying. She also works closely with her clientele to understand their unique style and needs in order to deliver exceptional results.
Kim is dedicated to staying up to date with the latest trends and techniques and regularly attends hair design seminars. In her spare time, she enjoys spending time with her family, and finds running and yoga to be her best form of meditation.